SAP Business ByDesign is SAP Cloud solution for SMEs and subsidiaries
CEREALOG recommends SAP® Business ByDesign®, the most comprehensive on-demand integrated enterprise management solution on the market.
Designed specifically for SMEs and subsidiaries of large companies, this SAP SaaS (Software-as-a-service) suite offers all the rich functionality of an enterprise management system without capital expenditure on high-cost information system infrastructure.
Manage all your business activities including financial, human resources, CRM, supply chain and procurement, with a single on-demand solution.
Discover how CEREALOG integrates the Cloud solution SAP Business By Design


SAP Business ByDesign features
Rather than adopting an approach centered around a single business area like most other products on offer in the web-based ERP segment, SAP Business ByDesign offers very extensive functional coverage that meets the requirements of most enterprises. There will be no concerns about hitting a usage ceiling as you grow your business.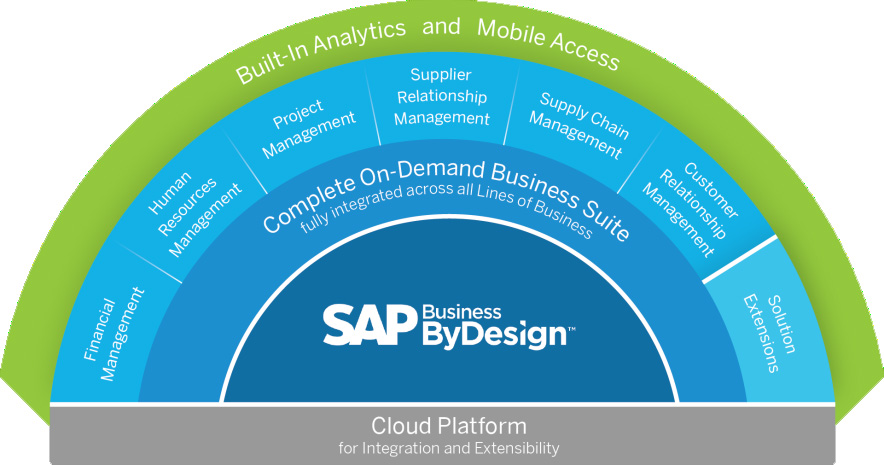 Benefits of the SAP Business ByDesign solution
Completeness : Covers all your organization's requirements. No need to go down the costly integration route with other solutions.
Agility : Allows you to respond rapidly and concisely to changes in your business.
Quick pay-off : Implementation in a short time-frame of 12 to 16 weeks.
Communication with your employees can be set up very fast – all you need is an Internet connection, user name and password to access the services.
Easy to use : Increased productivity and rapid adoption by your employees via an intuitive user interface. Includes a very extensive online help system and comprehensive self-training programs.
Affordable : Adapts to your budget with predictable costs and on-demand extension of capabilities.
Versatile : Configure SAP Business ByDesign features to suit your requirements. Tailor workstations to accommodate the unique roles of each employee.We can modify configuration of management processes and adapt user interfaces, reports and forms to meet your specific requirements.
Learn more, Download the SAP Business ByDesign brochure