SAP Customer Experience: boost your customer engagement
SAP Customer Experience is a set of solutions that drive sales, marketing, commerce, and revenue.
Its goal : to provide a consistent and personalized customer experience by drawing on relevant data to design fruitful interactions.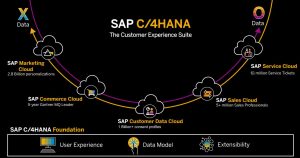 The SAP Customer Experience portfolio integrated by CEREALOG :

SAP Sales Cloud : Improve business results with better sales experiences.
Make the data available to sales team, all in one place and accessible anytime, anywhere, to help them make every interaction a positive experience.
Easily configure complex products online, automate pricing and discounts, and negotiate contracts in real time.
Sell more using territory planning and automatic commission calculation.
Monetize and transform the process from quote to payment, and go beyond its limits to adapt to the changing needs of your customers.
Make fast, reliable and relevant decisions at every stage of the sales cycle.

With SAP Marketing Cloud : Activate customer data and offer fast and intelligent communication.
Create a relationship of trust with your customers by managing permissions and consent.
Create comprehensive customer profiles using data from all departments in your organization and from third-party sources.
Use machine learning and artificial intelligence to gain visibility into customer behaviors and wishes.
Find the best audience for your campaigns and make sure they get the message at the right time.
Provide customers with individualized experiences throughout their journey.
Discover and define microsegments using powerful and intuitive segmentation features.
Design and run cross-channel campaigns to drive customer engagement and conversions.