SAP Analytics Cloud, the data analysis tool that helps you make the right decisions
What is SAP Analytics Cloud ?
SAP Analytics Cloud is a data analysis, manipulation and visualisation tool that includes budget planning and financial prediction capabilities. Developed on SAP's Cloud technologies, it is offered ad a Software as a Service (Saas) and allows you to create and share interactive dashboards with juste a few clicks, accessible from any connected workstation.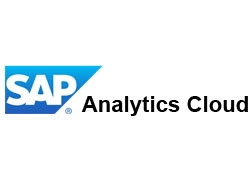 The main features of the solution :
Datavisualisation
You get an overview of your campagny's data and have full visibility of all aspects of your business.
Budget planning 
SAP Analytics Cloud includes a budget planning engine that enables you to do things like : 
Manage differents categories of data – actual, budget, plan and forecast;

Data entry, which can be delegated to different contributors;

The distribution of data between the different elements of your budget structure;

Applying conversion rates when consolidating data entered in differents currencies.
Predictive analysis
You have the ability to transform your data relevant information and find correlations between sets of data, including acting on differents factors to anticipate developments and identify untapped growth potential.
SAP Analytics Cloud is a complete solution. It leverages the power of the HANA environment (In-Memory technology) to give you access to all your data and analysis in real-time.
SAP Analytics Cloud is an open solution. Your source databases can be from SAP or non-SAP systems, it doesn't matter ! 
As a business leader, SAP Analytics Cloud enables you to make operational, tactical or stategic decisions with confidence :
You have access to all your company's data in real-time from a single platform, accessible from your computer or smartphone.

Your data is sorted, cross-referenced, analysed and represented graphically.

Your various commercial or financial forecasts are calculated automatically.

You use this data to drive change, gain efficiency and adapt to market developments.

In meetings witch your shareolders or management committee, your results are presented graphically and become visually more readable by all. You can run simulations directly in real-time in the solution.
SAP Analytics Cloud is an esy-to-use highly customisable business intelligence tool. It is both very complete and dimple to use.
Creating data visualisations does not require knowledge of any development language. The tool's handling is very intuitive, allowing you to create dashboard inlcuding charts very quickly. All elements such as charts and dashboards are customisable.
Do not hesitate to contact our experts for any further information !