Blog
SAP Business ByDesign – What's New in Release 2105
SAP Business ByDesign – What's New in Release 2105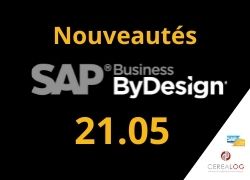 SAP Business ByDesign version 2105 has been available since May 2021 as the name suggests. This article gives you an overview of the most important new features of SAP Business ByDesign 2105.
CRM :
In sales orders, kits can now be identified by GTIN (Global Trade Item Number), and thus be invoiced for the entire kit by scanning the UPC (Universal Product Code) rather than each individual product.
We can now define a start and end date per item on contracts, which is useful for subscriptions.
Human Resources :
New automatism concerning the declaration of employee times. When an employee enters his time on a service order in SAP ByDesign, this time is directly posted on his time sheet.
OCR scanning of supplier invoices : improved file analysis intelligence and analysis errors. Automatic synchronisation of the intelligence with the system master data.
Logistics :
Consignment stock is now visible in SAP Business ByDesign. Consignment stock consists of goods that are sent to and stored at the customer's (receiver's) premises, but which belong to the sending company (sender). The customer is only obliged to pay for these goods when they are removed from consignment stock. The customer can return consignment goods that are not needed without being charged.
Two new native reports for logistics managers :

Forecasting of material withdrawals
The logistical location life of an article
Finance :
New functionality to automatically create an account statement from the import of a bank file.
DEB : Single window implemented on 1 July : SAP Business ByDesign adapts to the new European legislation regarding the exchange of goods. As of 1 July, companies registered with the French one-stop shop are no longer required to register with the tax authorities of other Member States to declare and pay VAT. This means that it is no longer compulsory to make a DEB if you are registered with the one-stop shop.
Cross Topics :
New notification workflow mode : it allows to notify the user on an external application to SAP (example : modified purchase order).
New ODATA API for KPIs : Customers can now access and extract KPI data using the OData service to extract data from SAP Business ByDesign.
New direct SAP support via chat directly from the system.
With Microsoft Teams® for SAP Business ByDesign, SAP Business ByDesign users will be able to easily access functionality (e.g. opportunities or account lists) in the SAP Business ByDesign system directly from Microsoft Teams and collaborate more easily with colleagues.
Mobile :
Employees and managers can use the SAP ByDesign Mobile application for time registration and can enable push notifications for approvals.
With Intelligent Mobile Expense Scanning, users can take a picture of a receipt, which will be converted to an expense in an expense report.
To see all the new features of SAP Business ByDesign in 2105, please see the What's New document.
See you in August for the next new features 😉