Divers
La Rochelle Aquarium
Interview with Ambre Bénier, Managing Director, Ambre Benier
The La Rochelle Aquarium has 800,000 visitors per year. What are the IT priorities of such a large tourist establishment ?
The basics : that everything works ! Our priority is the pleasure of our visitors. Visitors don't always realise the work that goes on 'behind the curtain'. It's the same with CEREALOG, the technicians work in the background every day to make sure that everything works as it should.
What services does CEREALOG provide ?
CEREALOG maintains our IT infrastructures in operational conditions. This includes the maintenance of our physical and virtual servers, data backup and access security. We are advised on the solutions adapted to our needs. In particular, rapid recovery in the event of a problem. The Café de l'Aquarium and the Boutique use the same services.
The Aquarium of La Rochelle and CEREALOG, a relationship that lasts ! CEREALOG has been working with you since 2005. What are the reasons for this continuity ?
CEREALOG is efficient and we trust them ! The team knows our infrastructure and our needs. If there is a problem, they are reactive and discreet. We have confidence in the skills of the technical teams. CEREALOG listens to us and does not try to sell us the latest technologies. CEREALOG advises us intelligently. There is a real continuity in relation to our requests. They go right to the end of the thought process. It is an indispensable partnership !
A geographical proximity too !?
Yes, it's true, I've already seen the teams deliver equipment to us, transported on foot from their offices ! Sometimes, I even have the impression that they work in the office next door. More globally, CEREALOG and AQUARIUM are similar, it's a family story and passionate people.
What are your projects with CEREALOG ?
We have the project to host a congress of doctors. The challenge is to offer a simultaneous wifi connection for 130 peoples. With CEREALOG, we will have the answer quickly. In 3-4 mails, we progress on the file and know what is possible.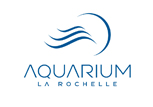 About : The Aquarium of La Rochelle is a family business. 50 years of passion for the marine world. Today it is run by the third generation, Ambre and Mathieu Coutant. A major tourist attraction : 800,000 visitors per year 2nd largest tourist site in the New Aquitaine region 83 aquariums, including 9 very large ones. www.aquarium-larochelle.com