Divers
SAP ByDesign Customer Story: Pier Import
Pier Import streamlines its entire process with SAP Business ByDesign 
Pier Import is a pioneer in the exotic furniture and home furnishings market and is a well-established retail chain with over 45 years of experience in the supply of furniture and home furnishings. The company selects and sources from suppliers around the world to provide its customers with value for money products.
"Pier Import still has a lot of business potential ahead of it and with the power of SAP Business ByDesign and the skills of CEREALOG, we are confident that we can manage our future growth."
Cédric Favre d'Echallens, CEO, Pier Import
Before the installation of SAP Business ByDesign : challenges and opportunities :
The company could not evolve without new tools.
Pier Import was looking for a solution to instantly know the situation of its warehouse in order to make the right decisions.
Need to automate operations and processes without any error.
Why SAP and CEREALOG ?
CEREALOG was selected for its expertise and references in the SAP ecosystem.
A positive and constructive partner relationship.
CEREALOG has developed several customized solutions to meet Pier Import's expectations.
The power exploited by SAP, in terms of data hosting and servers, associated with its ecosystem and its applications.
After SAP installation : value creation
The company is now more confident in its growth objectives.
Improved traceability.
An efficient, real-time monitoring tool for the company's activity.
SAP Cloud Platform is reliable while allowing the addition of functionality to SAP Business ByDesign.
A system that offers great portability and access to information from any device 24/7.
SAP offers robustness, scalability, and performance with its solutions.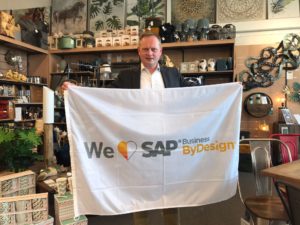 Read other SAP Business ByDesign customer stories :