News
BI-SAM Technologies Wins Gold SAP Quality Awards 2013
BI-SAM Technologies, customer of CEREALOG, Wins Gold Award at SAP Quality Awards 2013
We are proud to announce that BI SAM Technologies received the Gold Award SAP Quality Awards 2013 EMEA in category "Implementation of a SAP ERP."
CEREALOG recognized integrator ERP for SMEs and particularly the SaaS solution "SAP Business By Design", accompanied BI-SAM Technologies on this project in all its phases: design, integration and deployment to all legal entities in the group.
Each year, SAP attributes the SAP Quality Awards to customers whose implementations are distinguished by the measurable results of the project and the methodology used. The focus was also this year on the innovation that participants could demonstrate.
Regional awards were presented at SAP headquarters in Walldorf, Germany, April 2, 2014; BI SAM Technologies represented by Bruno Pierre DUPIEUX received the Gold Quality Awards 2013 prize for EMEA.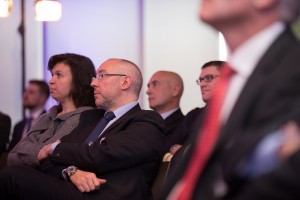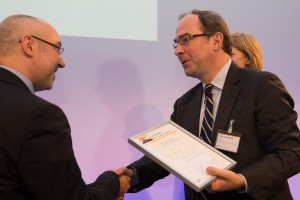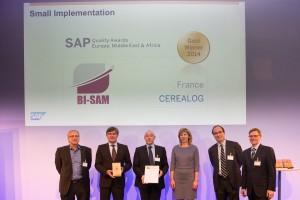 Bruno- Pierre Dupieux, Group Chief Operating Officer, BI -SAM Technologies:
"I warmly thank the team CEREALOG for their support in this overhaul of our process program (front and back office) coupled to the design and deployment of a configuration model for all entities of the group."
Jerome Burgaud, Executive Director, CEREALOG:
"We congratulate the BI-SAM team for this remarkable achievement and thank once again for the quality of exchanges and positive energy demonstrated throughout the project. This award recognizes a beautiful collective work. "