News
ChannelNews talks about us !
CEREALOG : growth accelerates, driven by SAP ByDesign activity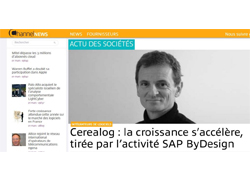 Discover the interview of Jérôme Burgaud on our SAP Business ByDesign Cloud ERP integration activity
CEREALOG is beginning to see itself paid for its obstinacy and stubbornness. The software integrator from La Rochelle, which in 2010 was one of the first in France to believe in the potential of the German publisher's ERP SaaS, has seen a steady rise in its ByDesign business. Over the past two years, this has overtaken its historical activity around SAP Business One and, with an average of 4 to 5 projects delivered per year, it now accounts for a large third of its €5m annual revenue.