News
Join us at the Salon du Numérique !
CEREALOG participates to the Salon du Numérique 2015
– On October 13th and 14th, the 1st edition of the Salon du Numérique will be held in La Rochelle, at the Espace Encan, at the same time as the Salon de l'Entreprise.
CEREALOG will welcome you on its stand to study together how to accompany the digital transition of your company !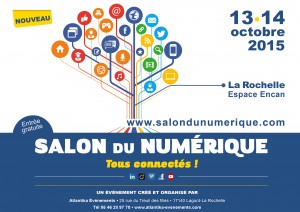 We will present you the solutions we have selected to
Answer your problems of systems evolution,
Secure your data
And better develop your company.
Jérôme BURGAUD, director of CEREALOG, will lead a workshop on the theme :
Cloud computing : uses and stakes in companies on Wednesday 14th October at 3pm.
Do not hesitate to come and meet him !
More info : www.salondunumerique.com