News
Membership of the Biotop eco-network
CEREALOG joins the La Rochelle-based Biotop eco-network for the recycling of its waste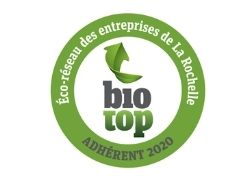 Biotop is an eco-network of companies with 150 members of all sizes and sectors of activity, committed to the circular economy in the La Rochelle CDA area.
CEREALOG decided to join in 2018 as part of its sustainable development approach. 👉 The objective : to recycle all possible waste.
We made an appointment with Biotop who advised us on the materials to be recycled and the installation of a dedicated recycling area in our La Rochelle premises.
In concrete terms, thanks to Biotop and the energy of Amélie and the Système&Réseaux team, we are now recycling :
Cerealog recycling WEEE – Waste Electrical and Electronic Equipment : computers, screens, printers, etc.
Cardboard
Transparent films
Foam
Cartridges
But also our furniture 😉
But Biotop is also this :
The Eco-network acts as an intermediary between companies in La Rochelle, it encourages exchanges between them and with local players :
The collection of company waste is shared.
Exchanges and visits between members are organised, inviting dialogue.
Training courses are offered to improve practices and acquire new skills.
Projects for grouped purchases of energy or solarisation of buildings.
A study is being carried out on the implementation of a system of exchange of material and human resources, called Ecocircuit.
In short, CEREALOG fully adheres to their actions and supports them 100% !
For more information, please visit the Biotop website.