News
New White Book: Why choose a Cloud ERP ?
WHITE PAPER : 8 good reasons to choose a Cloud ERP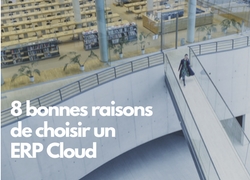 ERP is transforming the business.
The Cloud transforms ERP
Like 46% of French companies, you have chosen to make digital transformation your priority. You have just passed a milestone and are planning new developments : you are considering switching to ERP mode, an essential tool to support your decision-making. And because you are a growing SME or the subsidiary of a group, you are also looking for new agility. I would like to convince you that thanks to the Cloud, ERP is becoming a flexible and intuitive tool. A tool of today". Jérôme Burgaud – founder of CEREALOG
The Cloud is now at the centre of companies' digital transformation strategies, it transforms organisations and makes them more agile in the face of uncertainty and change.
Welcome to a new universe, agile, fast, communicating and rich in new functionalities.
Are you wondering why you should choose a Cloud ERP ? Discover 8 good reasons to choose an ERP in SAAS mode for your company.