Divers
News from our hive !
News from our beehives !
Our beehives in pictures :
CEREALOG and SAP have been sponsoring beehives for a few years in order to bring our financial help to local beekeepers, as the bee has been declared "The most important thing in the world" according to the Earthwatch Institute.
Here are some pictures of our hive in the commune of Charron :
In May, the hives are buzzing and their activity is at its peak. In spring, the bees have a variety of flowers to gather. This means that 15,000 foragers bring large quantities of pollen and nectar back to the hive. For beekeeping enthusiasts, this is the best time of year to observe their work !
For beekeepers, the season has already begun and they must anticipate the harvesting of their hives. They continue to lay supers that will give the bees more space and also take care to prevent possible predator attacks !
So, for the hives and beekeepers of Un Toit pour les abeilles, this was an opportunity to show us the results of their work. The beehive installed in the town of Charron, sponsored by CEREALOG and SAP Business ByDesign, delivered the fruit of the work of our dear beekeepers, 100 jars of 100% French, local and terroir honey !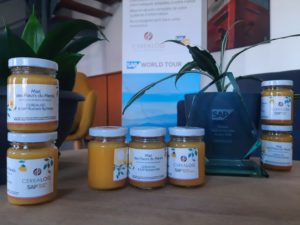 News from our beekeeper Sébastien GIRAUDET :
Sébastien is a beekeeper in Charente Maritime and the 4th of his generation in the commune of Charron.
After noticing annual losses of hives of around 50% per year due to the massive use of pesticides, he decided to turn to organic practices.
By respecting the specifications of organic beekeeping, he obtained the organic agriculture label for his hives, but the proximity of conventional crops did not allow him to obtain AB certification for his honey.
In this month of May, he gave us news of our hive located in the town of Charron :
"The hives are doing well at the beginning of the season, the first spring harvest was good and we are actively preparing the next ones by taking care of our breeding in order to prepare the future hives. »
Sébastien GIRAUDET
We encourage you to visit Sébastien's website : Les Ruchers de Cybèle