News
SAP accounting software certified to NF203
SAP Business One & SAP Business ByDesign 100% compatible with French accounting requirements.
The Tax Administration is planning new measures to strengthen its fight against VAT fraud and concealment of revenue through Article 88 of the 2016 Finance Law. The text mentions that all merchants will have to "use a software or system that meets the conditions of inalterability, security, conservation and archiving of data for the purpose of control by the tax authorities, attested by a certificate issued by an accredited body".
NF203 certificateIt will therefore become mandatory on 1 January 2018 for all companies to use accounting (NF203), management or cash register (NF525) software certified by an independent and accredited body.
For years, SAP has been investing significantly in the certification of its products. SAP Business One and SAP Business ByDesign are certified by INFOCERT.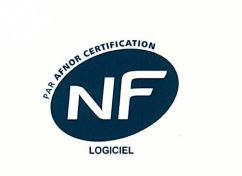 Download NF Certificate for SAP Business One
Download NF Certificate for SAP Business ByDesign
This certification means that, unlike some products available on the market, SAP solutions are 100% compatible with French accounting requirements.
Automate your accounting with SAP software
Automated accounting with SAP software allows for the handling of various routines and repetitive tasks. These IT solutions ensure the security and reliability of your accounts. In addition, you can work from anywhere, on any terminal, via an application or directly from a browser. With SAP accounting software, you have an intelligent, mobile ledger to take with you. You benefit from standard accounting functions and can complete tax returns directly.
SAP software for business accounting
SAP accounting software is the ideal choice for small and medium-sized businesses, as well as for larger companies. It is completely secure and you can manage access authorisations individually. The software enables companies to simplify and automate a large part of the commercial and financial processes : order management, creation of incoming and outgoing invoices, receivables management, payment tracking, etc. All accounting operations can be easily integrated. Data can be shared with your tax advisor, to whom you will grant the necessary rights.
Choosing a powerful and user-friendly accounting software like SAP's helps you save time by being more efficient. In addition, you can secure your financial processes and comply with tax regulations. You can keep track of cash inflows and outflows and therefore ensure that you always have the cash you need for your business.  But above all, the accounting software is designed to offer you maximum mobility. You can manage your accounting online, from a tablet, a smartphone or a PC, wherever you are. SAP Business One and SAP Business ByDesign ERP are solutions adapted to the current needs of companies, especially since they are fully customisable.