News
SAP Business One Innovation Summit
The SAP Business One Innovation Summit in Barcelona from 26 to 28 May 2015

The SAP Business One Innovation Summit is the major event in the SAP ecosystem. This event is an opportunity to meet the different players in the EMEA region, including partners and SAP Business One Top Executives ; a moment of exchange around the strategy and innovation of SAP Business One.
Over the course of three days, attendees will explore all aspects of SAP Business One – including consulting, development, sales and marketing – in breakout sessions, hands-on sessions and keynotes.
The latest innovations by HANA, new mobility technologies, the cloud…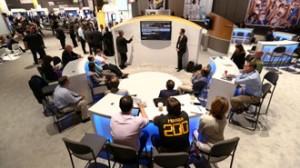 CEREALOG, Gold Partner on the solution for 10 years, participates to the conferences and brings its expertise ; And will be listening to the novelties in the various fields in order to bring always more knowledge to its customers.
If you wish to meet Jérôme BURGAUD, director of CEREALOG, do not hesitate to contact us. contact@cerealog.fr – 05.46.28.19.90