News
SAP Business One Service Mobile App Now Available
Work smarter and faster with the SAP Business One mobile app Service. Manage and resolve service tickets easily, either on-line or off-line.
With this mobile app we are another step closer to removing the complexities associated with ERP software, and bringing that to a non-technical audience. This app is a welcome addition to the SAP Business One mobile app portfolio: SAP Business One Sales mobile app, and the original SAP Business One mobile app, which enables finance users and business managers to manage their business anywhere.
What makes this mobile  app so desirable?
The SAP Business One Service app connects remote service workers directly to core SAP Business One ERP application and CRM data via their mobile device.
Powerful features of the new app empower mobile technicians to:
Check assigned service tickets
View customer addresses on maps and call customers
Scan bar codes or QR codes to identify items and update information
Create and view sales orders for service tickets
Why Is the App Needed?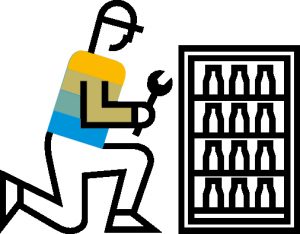 Consider this real-world scenario: Every morning, the service technician (let's call him Technician #1) gets to the office and is handed several paper service tickets by the team leader with the customer address and a brief description of the customer's issue. Now, that customer had previously been visited by another team member, Technician #2, who may have entered notes back in the office after visiting the customer.
When Technician #1 gets to the customer site he determines he can resolve the customer's issue, but needs to order a new part. This is where things start to break down due to current inefficiencies.
Technician #1 has no stock information, no idea when the needed part will be available, and thus leaves the service issue unresolved – pending a part and new appointment time to fit the part.
Technician #1 burns through a lot of paperwork – wasting precious time to solve a simple requirement. This slows down the ability to provide first class customer service and invoice the customer quickly.
If Technician #1 had the SAP Business One Service app on his mobile device, he could see if the part was in stock, then place and raise the purchase order, and make a note that a new appointment is needed to fit the part.
The ticket can then be resolved, and Technician #1 can ask the customer to sign the order right then and there. That closes the ticket prompting an invoice, and everyone is happy.
Set the Service Team Free
You can see how the SAP Business One Service app can help increase overall productivity and boost customer satisfaction by maximizing every customer interaction – with real-time accurate information and functions to enable quick resolution of a service ticket. Thanks to this mobile app, service  workers can effectively manage support tickets while on the move to wherever business takes them.
Technical Information : 
For Apple iOS:
*SAP Business One v9.3 PL04 version for SAP HANA
*Apple iPhone 5 or later, iOS8 or later
For SAP Business One Cloud:
*SAP Business One Cloud 1.1 PL09
*SAP Business One 9.3 PL04, version for SAP HANA
*Available in 28 languages